The Coronavirus disease (COVID-19) is a terrible global pandemic. With our drug candidate APN01, APEIRON Biologics is proud to be among the leading Biotech firms globally, to work on the development of a therapeutic to fight SARS-Cov-2.
The story of APN01
APN01 was developed after the first SARS outbreak in the early 2000s. Recently, it has been demonstrated that ACE2 is also the receptor for SARS-CoV-2, allowing the virus to enter human cells and to replicate. Our drug candidate APN01 is a recombinant form of human ACE2 with a dual mode of action. On the one hand, APN01 neutralizes the virus by binding to the viral particles with antibody like affinity and prevents infection of target cells. On the other hand, APN01 has enzymatic activity that normalizes the COVID-19 induced Renin Angiotensin System deregulation. The Renin Angiotensin System is a key driver of acute lung injury in a wide group lung disorders, amongst others COVID-19. APN01 therefore provides the best scientific rationale for a specific treatment of COVID-19 that surpasses other suggested strategies by acting at all relevant stages of this disorder.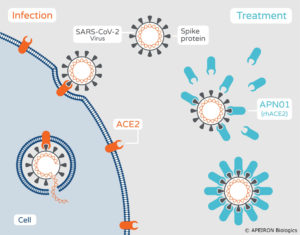 Current development status of APN01
A phase 2 clinical trial for APN01 was initiated in April 2020 in three European countries (Germany, Austria and Denmark). In the meantime, the UK has joined as the fourth country and further countries such as the USA, Canada and Russia are in preparation. In total, we currently work with 12 clinical centres in these countries. Our company-sponsored phase 2 trial will include 200 patients and we expect last patient out in September 2020. In close cooperation with the European Medical Association, we are aiming for an accelerated approval once efficacy is proven.
Here is the link to our related press releases and resources
Please find more about APEIRON Biologics here